CDI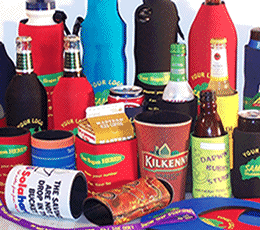 Manufacturers and Printers of Stubby Holders, Neoprene Promotional Products, Neoprene and Sublimation Supplies.
Sole Australian and New Zealand distributors of the unique "Slap, Wrap and Go!" (Aust. Patent #736,733) Stubby Holders
CDI is proud to be one of the largest "Trade Only" manufacturers of printed Neoprene Stubby/Can Coolers in Australia. We supply throughout Australia exclusively to the Promotional, Advertising, Events, Conference, Reseller and Print markets. We are a proud "Supplier" member of the Australasian Promotional Products Association.
At CDI, we import only the best quality neoprene rubber components and employ the latest techniques in print technology. Full Colour Dye Sublimation and Plastisol Screen Printing are our specialty. Our standard Stubby Holder comes with a base and heat sealed tape – using high quality glues. Since 1997 we have produced many millions of Stubby Holders for the Australasian Promotional and Print market.
We are also the sole Australian & New Zealand distributors of the patented "Slap, Wrap and Go!" stubby holder (Australian Patent # 736,733). It starts out flat, but with its unique internal construction it quickly wraps around almost any sized beverage container when lightly slapped against its surface. "Slap, Wrap and Go!" are lightweight, colourful, attractive and durable. The flat design allows for efficient storage and freighting - the perfect product for marketing mail-outs and product launches!
CDI have implemented strict quality controls and our in-house production team follows stringent manufacturing procedures. These guidelines result in very high standards and efficient production methods. The end result is a cost effective, professional product - delivered to you on or before deadline.
Our company policy is to strive for the very best standards of service, manufacturing a large range of high quality Stubby Holders that will promote your message professionally and creatively.

---
Mission Statement
CDI is an Australian manufacturing company that provides a range of printed Stubby Holders and Neoprene products to the Promotional, Reseller and Print industries. We import the best quality raw materials and use the latest print technology in the manufacture of our products. Our aim is to produce high quality, cost effective products on or before deadline – within a courteous, efficient business atmosphere.
---
Our Aims
Business Ethics
To demonstrate a commitment to achieving long term, ethical business partnerships with all our clients and suppliers.
Customer Service
To understand the real needs of our clients and the role we play in their business success. To strive for very high levels of service at all times.
Employee Commitment
To realize that company profitability and productivity will grow through providing a safe, secure, rewarding and challenging work environment. To encourage open communication and participation at all times.
Quality Assurance
To recognize that quality is an attitude that influences every activity within the company. We will continue to improve where possible on all aspects of product quality.
Product Development
To pursue new product opportunities within our existing markets and look to the future development of products as new opportunities arise.
The Future
To work toward a future of positive growth Australia wide - to continually strive to be a leader in all aspects of our manufacturing and customer service.